Tipping Stillages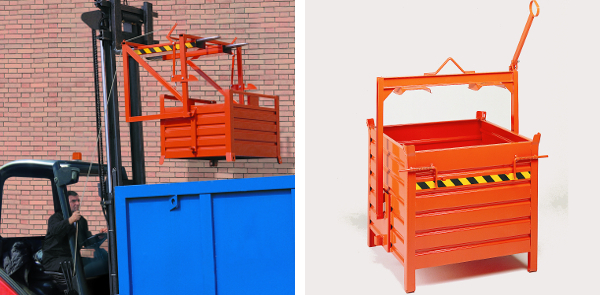 These stackable stillages provide a flexible solution to the problems associated with the collection, storage and dumping of scrap and other materials. The addition of a strong tipping frame transforms the stillages into dumping containers that can be emptied by forklift truck.
We supply two dumping solutions.
A stillage and a removable gear unit which are sold seperately. This allows for one gear unit to be used with several stillages.
We also supply a dumping container with a fixed gear unit. This has a higher capacity than the removable solution.
The tilting skips are equipped with a release and tilting mechanism, connected to a rope that allows the skip contents to be dumped directly from the forklift.
The dumping containers within the frame have 180 degree rotation. The fixed tilting gear model SL155R comes with two rubber shock absorbers to absorb the impact of the dumping.
The skips come in a range of standard RAL colours so that they can be colour coded for specific waste types if required, you can select the colour from within the options. Alternatively a galvanised finish is available.
Delivery is FREE to mainland UK, excluding Northern Ireland, Scottish Highlands and Islands. Please call for a delivery price to these regions. Prices do not include VAT. Products not in stock have a 4 week lead time.
Stillage Buy Online Now
Product
Stillage Dimensions in mm
Capacity
Volume ≅
A
B
C
D
E
SL065R Stillage for RIB065
1000
800
500
130
60
800 Kg
350 L
0.35 m³
0.458 yd³
Tipping Frame Buy Online Now
Product
Frame Dimensions in mm
A
B
C
RIB065 Gear for SL065R
1140
730
800
Tipping Stillage & Gear Buy Online Now
Product
Stillage Dimensions in mm
Capacity
Volume ≅
A
B
C
D
E
SL155R Stillage with Gear
1000
1000
800
150
60
2000 Kg
718 L
0.718 m³
0.94 yd³
Please contact us for further details on this item.
Contact us for more information